DIGI DMC-688 Digital Coin Counting Scale
The DMC-688 Series coin counting scale was developed with portability and speed of operation in mind. This efficient model can weigh any quantity of coin in 3 seconds! Weighing only 8 lbs and powered either by battery or AC power, the DMC-688 is ideal for applications that require a portable scale.
Preset coin value keys allow you to count everything from a handful of dimes to a $1,000 bag of quarters.
Eighteen "hot" keys allow you to customize the scale with any assigned coin, token, or ticket denomination. Three large bright displays for weight, denomination, and total value feature super high contrast that make results easy to see, even in dim light.

Applications

• Cash drawer check-out • Bus tokens
• Casinos • Laundromats
• Car washes • Entertainment centers
• Cash tills & Vending Machines • Toll collection authorities
• Slot routes • Parking meter collections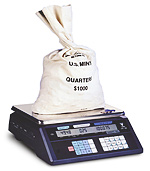 Product Features

• Dual displays for cashier and customer view
• Three large high contrast LCD displays: Weight, denomination, value
• Dollar amount accumulation or subtraction
• 500 continuous hours with standard "D" cells 1,000 hours with alkaline batteries*
• Programmable denomination and unit weight
• Keyboard pushbutton tare entry
• Reverse sampling and counting capability
• Eighteen preset keys for additional coins or tokens
• Rugged heavy duty design, yet lightweight (9.7lb/4.4kg) for portability
• Battery-saving auto power-off function
• Toggle between coin count and dollar amount
*Batteries not included

Capacities Available: 6 x .001 lbs, 15 x .002 lbs, and 60 x .01 lbs
Options & Accessories

• Six "D" cell alkaline type
• Carrying case; hard shell with locking latches
• Anti-static sample tray
• Additional Digi Scale Operator Manual


Please call (919) 776-7737 or email us at if you have any questions or would like to place an order